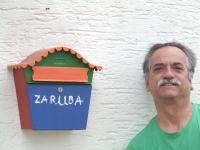 skätch-up
"sketch, draw and paint"
stuttgART, Alemania
Miembro desde hace December 14, 2010
zaruba-stuttgART-art-is-t...
1 150 684
vistas
49
comentarios
2
favorecido(s)
Informaciones profesionales
Nombre
Günther Z.
Cumpleaños
1956-00-00
Educación
self,
Técnicas
sketch
Instrumentos
colorpencils and black fine liner
Influencias
Möbius Haitzinger, M,C. Escher, Kandinsky. Schiele; Boris Vallero, Frank Frazetta
Viñeta favorita
EL GATO
Informaciones Personales
What a lot of possibilities are there if you have a piece of paper and some pencills, or any colores....