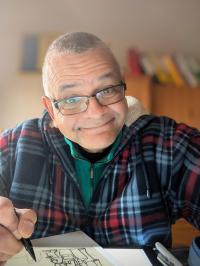 Karsten Schley
"Just draw it!"
Hamburg area, Alemania
Miembro desde hace August 23, 2008
www.schleycartoons.com
21 356 133
vistas
7 487
comentarios
164
favorecido(s)
Informaciones profesionales
Nombre
Karsten Schley
Cumpleaños
1965-08-24
Educación
Middle School
Técnicas
Cartoon
Instrumentos
Brush Pens, Pencils, Pens, Computer
Influencias
Gary Larson, Callahan, Hergé, The Charlie Hebdo guys and many others.
Viñeta favorita
More than one.
Informaciones Personales
I'm married, we've got two daughters. I'm drawing since age 8. 7 books illustrated, my stuff got published at Die Welt, Kölner Stadtanzeiger, Oxford University Press, the German edition of Charlie Hebdo, Nebelspalter, Weltwoche and other publications. I'm working for cartoon agencies in Germany, England and Italy.
Contactos de Karsten Schley
(58)