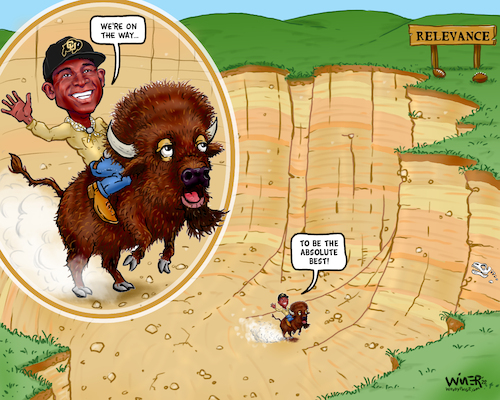 Prime Time CU Buffs
#417602 / vista 793 veces
Latest cartoon for WoodyPaige.com, a leading online commentary platform for sports in the USA and abroad.

There's a new sheriff in Boulder town. Deion Sanders has arrived to save the University of Colorado football.

The wheels had fallen/flown off a once proud program in dramatic fashion, finishing the 2022 season at 1-11, and facing blowouts in nearly every loss. Poster child for the negative impacts of the new rules (or lack thereof) for NIL and transfers, CU had seen a serious defection of talent in recent years that left the cupboard bare.

Head coach Karl Dorrell was fired at mid-season, so there was plenty of time for speculation regarding the next coaching hire. But you had to search high and low in the state to find anyone optimistic about that outcome. Colorado had whiffed over and over during the past 15 years with its coaches, and a depleted roster was not going to provide much of a lure for a coach to grab the reins. It required courage to even peer over the edge to see how far the program had fallen.

Then, seemingly out of nowhere Deion Sanders made a splash, as only he could. The school found the money ($29.5 million over five years as well substantial funds for a top tier staff) and a commitment to become more aggressive managing NIL opportunities for players.

However, it was still a major leap of faith for Coach Prime to take on a rebuild of this magnitude. He left a comfortable situation in Jackson State where he'd built a 27-5 record over three years, turning around a program that hadn't seen a winning season in the prior seven years.

The CU effort will require a heap of that turnaround magic. Already the transfers and recruit commits have begun flowing in, so the first part of the journey seems to be heading the team back up that long hill/cliff towards relevance.
Deporte » Fútbol Deportes de Pelota Otros Deportes
sportscartoonillustrationamericanfootballusacoloradouniversitycubuffsbuffaloesralphiecollegedeionsanderscoach