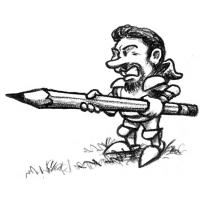 karlwimer
Denver, Colorado, Estados Unidos de América
Miembro desde hace May 02, 2008
www.karlwimer.com
2 140 414
vistas
137
comentarios
22
favorecido(s)
Informaciones profesionales
Nombre
Karl Wimer
Cumpleaños
1967-10-14
Educación
Yale, London School of Economics, JL Kellogg Graduate School of Business
Instrumentos
Colored Pencil, Acrylic, Pen and Ink
Influencias
Steve Sack, KAL, Oliphant, Ramirez, Horsey,
Informaciones Personales
I'm a cartoonist, designer, and strategic marketer. I've won prizes in national and international contests, and am published regularly across the United States, and have appeared in publication on nearly every continent. I take on projects of all styles, shapes, and sizes, and love applying a deep knowledge of history, politics, culture (and a ton of fun) in all I do.