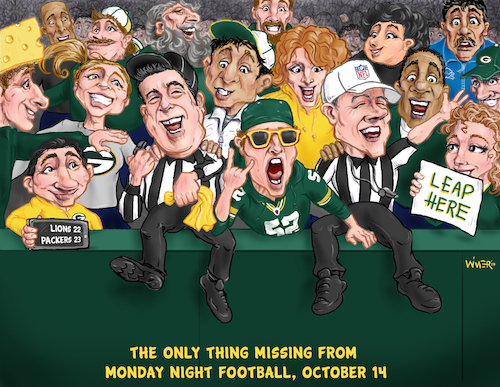 1070
NFL Zebra Lambeau Leap

2
Applause

de
karlwimer
on 26 de October de 2019
Cartoon for WoodyPaige.com, a leading sports commentary website in the USA. For non-Americans, a zebra is the nickname for referees. The Lambeau Leap is a celebratory act after a touchdown by Green Bay Packers at their home field. A referee has never done the Lambeau Leap, and didn't this particular night. But their impact on the game was such in favor of the home team that they probably should/could have.

NFL refs are under more scrutiny than ever before. And rightfully so.

On October 14, in front of a national audience on Monday Night Football, the Green Bay Packers squeaked out a 23-22 win over the Detroit Lions, increasing their lead in the NFC North, while deflating the prospects of their Motor City rival.

As players and coaches for the Lions would point out, they had plenty of opportunities to win the game outright. But clearly the referees had a major hand in the outcome, botching a pass interference call and the resulting challenge (Exhibit 1 calling into question whether or not the new rule is working as intended), and missing or making a number of other head-scratching calls throughout the game.

But it was two "hands-to-the-face" penalties against Lions Trey Flowers that kept drives alive and cemented the win for the Packers. Replay showed that these should have been non-calls, and perhaps the product of Academy Award winning acting by Green Bay left tackle David Bakhtiari.

The fact that Flowers had never been flagged for this infraction prior in his career doesn't help the optics.

Refreshingly, ESPN analyst Anthony "Booger" McFarland (impressive so far for his natural, insightful and candid delivery this season) didn't hold back on this assessment.

"That is a terrible call,'' said McFarland after the second Flowers penalty. "Let's make sure we let America know that. That's twice. The first time it cost [the Lions] a sack. This time it cost them the game.''

I'm pretty certain that NFL Commissioner Roger Goodell didn't like hearing that on TV.

Make no mistake about it: these blown calls will likely have implications on the NFC Playoffs when January rolls around.

Every new week of the season ref-related issues influence games in key ways. Early on it was an emphasis on "lobster blocks" that led to a huge bump in holding calls. It doesn't seem we are any closer to getting the interference challenge rule change right. Unclear if what is needed is better refs, better reffing (additional training?), or better rules.

But it is clear that we are heading for another end of the season when teams will be crossing their fingers that the guys in the stripes don't determine if they make the playoffs or get bounced (see New Orleans last year) with a lousy call or non-call.

It would be great to have far fewer moments where the only observation to be made (thank you, Booger) goes something like this: "the Lions are going to feel like they played better than the Packers tonight and the officials took this one away."

Lambeau Leaps should be reserved for players only.
Deporte » Fútbol Deportes de Pelota
sportsnflrefereerefsgreenbaypackersdetroitlionsamericanfootball