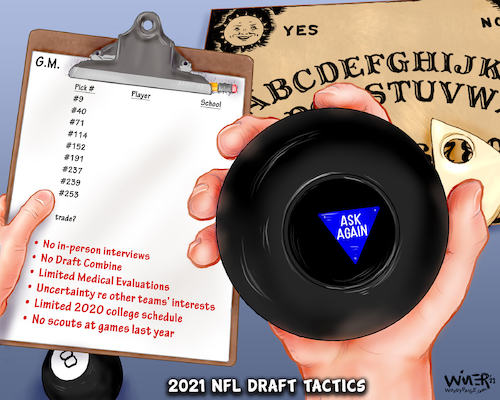 NFL Football Draft Uncertainty
#382587 / vista 1393 veces
Latest cartoon for WoodyPaige.com, a leading online portal for all things regarding sports in the United States and internationally.

The 2021 NFL Draft is around the corner and there has rarely been so many questions and uncertainty about a crop of football talent.

The Covid-19 pandemic and all its ramifications means that NFL teams are (relatively) in the dark about the available talent on every measurable level.

First of all, there has been no opportunity for NFL teams to have in-person interviews. Yes, in every industry Zoom interviews are becoming the norm, but in very few cases is it better than sitting down in a face-to-face. When every team is concerned about burning a draft pick on a player who will not just be an athlete on the team, but a locker room presence, a face of the organization in the local community, and an employee who spends half the year away from the organization out of season, you can understand the need to look under every rock to understand everything making these young men tick.

The absence of the NFL Combine takes away another sample point. Sure, there have been Pro Days held at various major programs where players have been able to go through many of the same drills and tests as the regular combine. But, every one of those events was held under different conditions, making it harder to compare apples to apples.

Limitations on face-to-face interactions have seriously curtailed medical evaluations; near the top of the list for "kicking the tires" on players as potential future assets. When the average career length of an NFL player is 3.3 years, and no sport grinds up a player like football, it's critical to best understand the present physical state of these young athletes.

The level of gamesmanship that historically takes place around this time of year is probably worthy of multiple books and podcasts. No team wants to show its hand for its interest in various players, particularly the ones that may not be on the top of everyone's draft list. That interest is hard to hide when a coach or scout visits a campus, sets up an interview, or shows interest in some other way. This often has led to other teams swooping in on those players before the original interested team can draft them as a competitive resort to deprive a rival team of an asset. Importantly, it's also a cheap way to let other teams do the hard work and due diligence that other teams can benefit from.

Finally, the pandemic forced a shorter season for most FBS and FCS teams, while shifting the season to the spring for many lower level teams. To make matters worse, scouts were not allowed to attend many of those games live — an eye test that can be very different than what one sees on film. For scouts and NFL personnel, a larger sample size is essential for effectively rating players, and this year that just doesn't exist.

Thus, we've already seen a number of teams trade out of higher draft positions, because they simply don't want to play this guessing game. For so many others, the Magic Eight Ball may be the best answer.
Deporte » Fútbol Deportes de Pelota Otros Deportes
sportscartoonnflfootballdraftuncertaintymagiceightballouijaboardtalentcovidcoronavirus