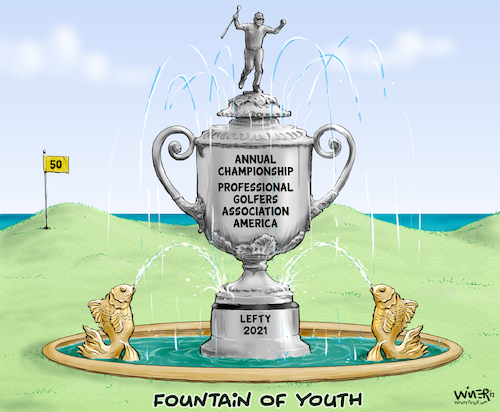 Golf Fountain of Youth
#384749 / vista 1653 veces
My latest cartoon for WoodyPaige.com: a leading platform for sports commentary in the United States.

Lefty's Long Sip from the Fountain of Youth

At only a few weeks from turning 51 years old, Phil Mickelson pulled off an improbable PGA Championship in Kiawah, South Carolina.

Now the oldest winner ever of a PGA Championship, the feat was made even more impressive as Mickelson had truly struggled recently, entering the tournament with a lowly ranking of 115 in the world. If you had placed a $1 bet on him, you would have come out $300 richer. Missed cut after missed cut had plagued "Lefty" recently, so when he suddenly found his stride on the small South Carolina coastal island, everyone was shocked and surprised.

But as Mickelson has become more of a fan and tour favorite over the years, the surprise was universally embraced. As he strode up to the final hole with victory in his sights, an enormous crowd cheered him on, and then again when he sunk his final putt.

In a year when a 43 year old won a Super Bowl, another aging legend had dipped his cup one more time into the Fountain of Youth to give us all a little taste of inspiration.
Deporte » Golf Otros Deportes Campeonatos
golfunitedstatesphilmickelsonpgachampionshiptrophyfountainofyouthsports