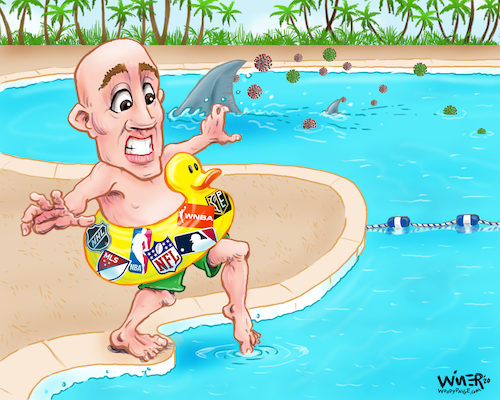 1502
Dipping a toe in uncharted water

1
Applause

de
karlwimer
on 31 de July de 2020
A cartoon for WoodyPaige.com, a sports website platform for many of the best commentators on sports in the U.S.
Sports are back! Well, kind of...
All of the major sports (and many of the minor ones) are starting up again in some form or another in the U.S. None include fans in the stands of any note. So the value of television continues to rise on all levels, as sports-hungry fans will ingest anything to enrich their socially distanced lives.
This is uncharted waters for every one of these sports leagues, with most hesitantly dipping their toe before jumping in to the deep end. These waters are fraught with all kinds of danger regarding Covid. Careful getting in too deep, because the coronavirus has a habit of quickly making a mess of things. Just look at baseball and their approach of no fans, small changes, but business as usual for playing home and travel games with limited isolation for players and staff. Somewhat predictable, but a team (the Marlins) already has experienced a surge of cases on their roster, which in turn led to a postponement of several games. With an already short 60-game season, missed games will only complicate rankings and playoff calculations.
Other sports are taking the bubble approach. So far, so good for many of them. But it's early days, and I'm certain there will be a regular tally of players who are caught "breaking out" of their imposed bubble worlds, no matter how much those worlds are lavishly propped up to meet players' various and extensive needs. Patience and maturity aren't the hallmarks of 20-somethings to start with, and athletes certainly don't set records for impulse control. Breaking out means higher chances of exposure, which means eventual cases and hiccups to sports leagues' best laid plans.
Here's to the sports leagues that deliver the sports we've been craving, while keeping things safe and as normal as possible. A balancing act that will be as interesting to watch as the sports themselves.
Deporte » Fútbol Deportes de Pelota Natación Deportes de Invierno Otros Deportes