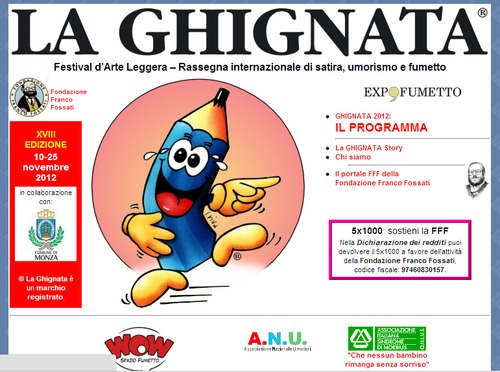 3469
Cartoon Fest- Italy

de
menekse cam
on 26 de January de 2013
I'm in the number of eight authors selected for this great exhibition (international cartoon fest themed "woman" )! 250 artists from 50 countries are participated to the competition to be able to take place in this exhibition.

The exhibition will be held in Milano in 8th-31st March 2013.

"Dear Menekse,

We are glad to inform you about the great success of the show LA GHIGNATA 2012 - Rassegna internazionale di satira, umorismo e fumetto (Monza, Italy), to which you participated.

A jury-selection of the works will become part of another exhibition, which will find place in Milan at "WOW Spazio Fumetto - museo del fumetto, dell'illustrazione e dell'immagine animata" (www.museowow.it) from March 8th to 31st.

We have the pleasure to inform you, that you are in the number of eight authors selected for this further exhibition!

Since this is a larger show, you will have more opportunity to showcase your work, therefore we bet you to send us two pictures more, of your choice.
We would also appreciate if you could send us a self-portrait or self-caricature, which we would like to hang next to your exhibit.

In order to prepare for the exhibit on March 8th, we will need to receive your additional two works and your protrait in digital format (resolution: 300 DPI) by February the 20th 2013.

We look forward to continuing to work with you and thank you in advance for your participation.

Best Regards,

Liviano Riva, Ghignata's director
Rossella Orofino, Fondazione Fossati's collaborator"
Medios & Cultura » Multimedia Prensa Sociedad
cartoonfestitalyexhibitonwomanmilanmilanodirectorlaghignatamarchcartoonist

Nastassja Kinski

Elections

Love