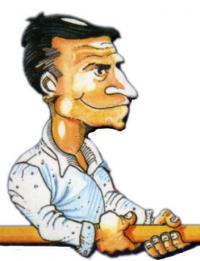 zlaticanin
Kragujevac, Serbia
Miembro desde hace December 01, 2008
zoran-zlaticanin.blogspot...
84 226
vistas
114
comentarios
19
favorecido(s)
Informaciones profesionales
Nombre
Zoran Zlaticanin
Cumpleaños
1969-02-22
Educación
Economist
Técnicas
COMBINATION
Informaciones Personales
Born in Kragujevac, Serbia 1969. He graduated faculty of Economics in Novi Sad. He have 15 years experience as a professional illustrator and cartoonist. He exposed in numerous newspapers and magazines around the world, and in collective art galleries (New York, Kyoto, Amsterdam...). He obtaind various national and international prizes. Currently, resident in Romania, Israel, Holland, Turkey... Since 2001 his works studied in Kyoto Seika University on Japan, prestige university for cartoons in the world. By the middle of 2001 his works have been a regular settings of the New York Central Art Gallery. Now hes works published in "Newropeans Magazine" - France. He is a member of Montenegro Cartoon Association.
Contactos de zlaticanin
(47)