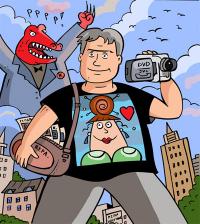 Sergey Repiov
Moscow, Rusia
Miembro desde hace January 20, 2008
sergey-repiov.livejournal...
152 678
vistas
27
comentarios
4
favorecido(s)
Informaciones profesionales
Nombre
Sergey Repiov
Cumpleaños
1959-06-07
Informaciones Personales


Artist-caricaturist, illustrator, freelancer. The artist of the Soviet magazine "Krokodil" from 1980 to 1998. Since 1992 - the illustrator of publishing houses "Prosveshcheniye", "Karapuz", "Mnemozina", "Radio and communication", "The Russian writer", "Akvilegiya-M". The member of the Creative Union of artists of the Russian Federation since 2001.