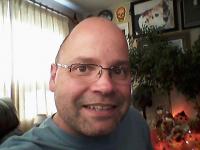 Brian Ponshock
"There's something much more important than being alive...it's knowing you have lived."
Antigo, Estados Unidos de América
Miembro desde hace December 22, 2010
362 102
vistas
36
comentarios
4
favorecido(s)
Informaciones profesionales
Nombre
Brian Ponshock
Cumpleaños
1971-07-17
Educación
Associate Degree in Residential Design
Influencias
Charles Schulz, Bill Watterson, 70's/early 80's Saturday morning cartoons.
Viñeta favorita
Peanuts
Informaciones Personales


Currently a mechanical designer aspiring to be a cartoonist / childrens' books illustrator.