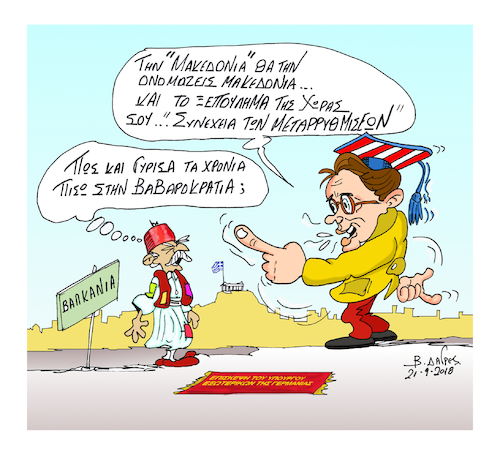 613
Visit of the German foreign mini

1
Applause

de
vasilis dagres
on 25 de September de 2018
The SKOPJE, you will learn to say Macedonia.
The sale of your country will say:
Continue Reforms

HOW I went back time.
IN THE YEARS OF During the Bavarokratias.
1828: Arrival of Capodistrias.
1831: the murder of Kapodistrias.
1833: The protector forces of Greece, which was England and France, along with ambitious Greek and non-patriotic politicians such as Mavrocordatos, Kolettis, Koundouriotis and Zaimis, impose as the king of the Greeks the young bauer Othon who was the son of Louis.
Together with Otto were nominated three regents:
A) The first regent was the Bavarian George Mauer (Georg Maurer, 1790-1872), he was in favor of the French, had studied in Paris and was professor of Munich, loved their laws and regarded the Greeks as barbarians, one to subdue the Greeks, brought from France to Greece three guillotines, first put her in Nafplion, another in Missolonghi, and was the third mobile ...
B) Armanspergk Joseph (Joseph Armansperg 1787 1853) Bavarian politician, he was minister of external and internal, and was a friend of the English, and friend of the banker Rothschild.
C) Chaintek Charles (Karl Heideck), Bavarian, was a lieutenant colonel, he undertook to command the army.
The Greek people with blood and struggle expelled the Turkish slavery, and their position put Bavarians.
Política » Nacional Internacional Ejército & Seguridad Impuestos Histórico Otros Conflictos & Guerra Políticos Partidos Democracia Energía