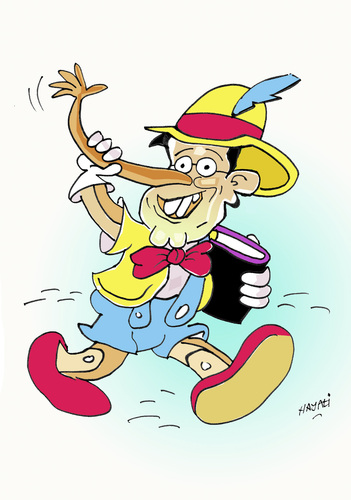 6738
Und Tschüss !

de
Hayati
on 01 de March de 2011
Von und zu Guttenberg

Karl-Theodor zu Guttenberg resigns in major blow to Angela Merkel
Germany's defence minister has resigned following a plagiarism scandal, robbing Angela Merkel's government of one of its star performers in a month of vital regional elections.



Alman Savunma Bakanı Guttenberg İstifa Etti

Almanya Savunma Bakanı Karl-Theodor zu Guttenberg görevinden istifa etti.

Düzenlediği basın toplantısında gelinen aşamada görevini sürdürmesinin mümkün olmadığını söyleyen Guttenberg, istifasının sadece doktora tezindeki hatadan dolayı değil, özel nedenlerinin de olduğunu ifade etti.

Kendisiyle ilgili haberlerin yurtdışındaki görevleri sırasında hayatını kaybeden askerlerin önüne geçtiğini ifade eden 39 yaşındaki Guttenberg, doktora teziyle ilgili araştırmada kendisinin de yer alacağını belirterek, "Her zaman mücadeleye hazırım. Ama gücüm kalmadı" dedi.

Guttenberg ayrıca Almanya Başbakanı Angela Merkel'e son günlerde kendisine verdiği destekten dolayı teşekkür etti.

Doktora tezinde intihal yaptığı söylenen Guttenberg, hata yaptığını kabul ederek doktora unvanının geri alınması için Bayreuth Üniversitesi başvurmuş, isteği üniversite tarafından kabul edilmişti.

Almanya Savunma Bakanı Guttenberg'in 2006 yılında üniversiteye teslim ettiği tezi 1 yıl sonra 'en iyi doktora tezi' seçilmişti.
Política » Internacional Elecciones Ejército & Seguridad Tercer Mundo Terrorismo Pensión Familia & Juventud Trabajos & Social Fraude & Corrupción Otros Políticos Partidos Democracia
boyaciogluhayatidoktoraministerplagiataffaereguttenbergplagiatguttenbergverteidigungsministerrücktritt