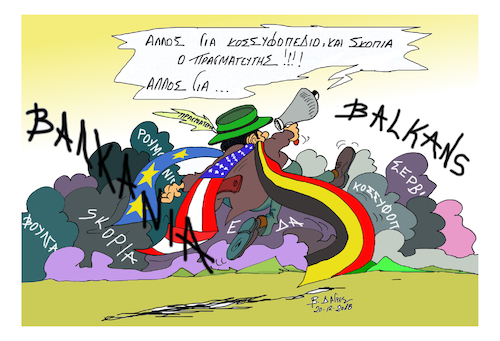 643
The dealer

1
Applause

de
vasilis dagres
on 22 de January de 2019
Ο πραγματευτής φωνάζει :
'' Ποιος θα έρθει μαζί μου , για να πάμε στα βαλκάνια '' .

Το μεγαλύτερο ποσοστό του ελληνικού λαού , είναι ενάντια στην συμφωνία που γίνεται για τα Σκόπια.

Όλοι οι νεοφιλελεύθεροι και λαϊκιστές πολιτικοί της Ελλάδας , κυβέρνηση και αντιπολίτευση , πράττουν συμφωνά με την βούληση των νεοφιλελεύθερων και λαϊκιστών πολιτικών της ευρωπαϊκής ένωσης, και ενάντια στην βούληση του ελληνικού λαού.
Στην ευρωπαϊκή ένωση θα έπρεπε να είναι σεβαστή η βούληση του λαού ;

Ο αντιπρόσωπος διαλαλεί:
The dealer proclaims:
'' Who will come with me to go to the Balkans ''.
The largest percentage of Greek people are against the agreement made for Skopje.
All neoliberal and populist politicians of Greece, government and opposition, do according to the will of neoliberal and populist policies of the EU, and against the will of the Greek people.
In the European Union should be respected the will of the people?
Política » Nacional Internacional Ejército & Seguridad Impuestos Economía & Dinero Otros Políticos Partidos Democracia