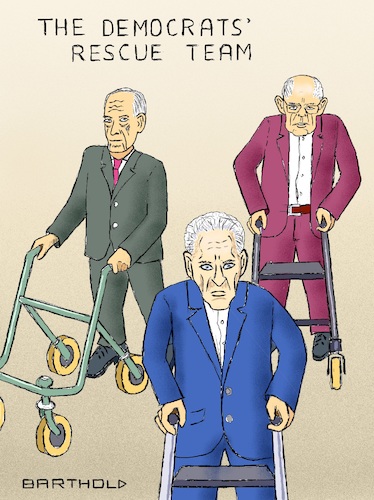 505
The Democrats Rescue Team

de
Barthold
on 25 de November de 2019
I have nothing against these gentlemen, each of them will be much better qualified for the job of the American president than the one who holds this position presently
- but, I think, their age separates them from being really the best choice.
Old people tend to often repeated thinking patterns and these might be insufficient for really new problems or challenges.
Beyond this the ability to concentrate (on a difficult negotiation, speech or similar situations) diminishes when becoming old.
Also travelling is a higher physical stress for elder persons, especially because it is connected with jumping between different time zones (jet lag).
Política » Nacional Elecciones Políticos Partidos Democracia
usaunitedstatesamericamichaelbloombergberniesandersjoebidenwalkingframerollatorpresidentialelection2020