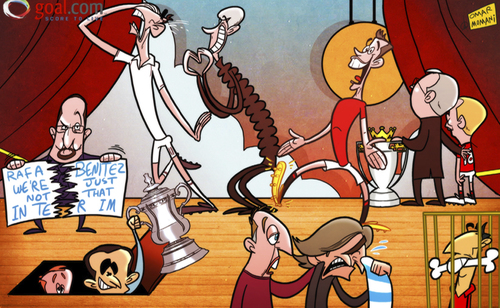 2112
Tears and cheers

2
Applause

de
omomani
on 22 de May de 2013
Sunday saw the final round of games as another Premier League season came to an end.

Manchester United claimed the title, inspired by Robin van Persie's goals, before Sir Alex Ferguson stunned the world by announcing his intention to retire from the game, closely followed by Paul Scholes.

Deposed champions Manchester City lost not just top spot but also their manager after firing Roberto Mancini while Rafael Benitez went from zero to hero at Chelsea.

Elsewhere Liverpool striker Luis Suarez was rarely out of the headlines and Wigan claimed a memorable FA Cup win but still slipped out of the top flight.

And of course there was still time for drama on the final day as Arsenal pipped Spurs to fourth spot, despite Gareth Bale's heroics, as the curtain came down on yet another season.
davidplattfacupfergusongarethbalemancinipremierleaguerafaelbenitezredknapprobertomartinezscholessuarezvanpersiewenger