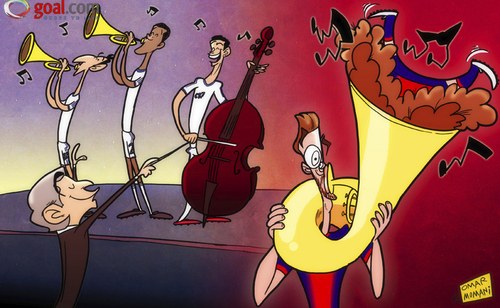 1699
Mourinho orchestrates

3
Applause

de
omomani
on 01 de March de 2013
After a season blighted by poor form and in-fighting, the tides finally turned in Real Madrid's favour on Tuesday evening as they sealed a 3-1 victory at the home of rivals Barcelona to earn a place in the Copa del Rey final.

Cristiano Ronaldo's double was followed by a Raphael Varane header - the youngster's second in the two-legged tie - to ensure that Jordi Alba's late goal was nothing more than a consolation.

The £80m-man was quick to hail the side's "perfect" performance, and the joy of victory on their bitter rivals' home turf was clearly etched on Jose Mourinho's face after guiding his side to a famous win in Catalonia.
barcelonaclasicocristianoronaldodimarialaligamourinhopiquepuyolraphaelvaranerealmadrid