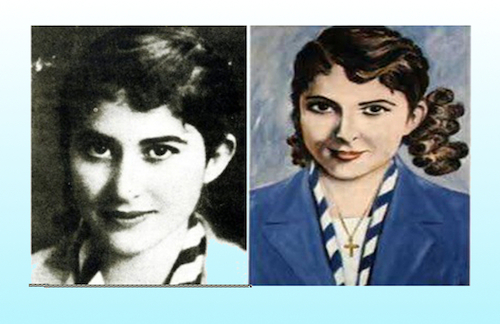 546
IRO KONSTANTOPOYLOY

0
Applause

de
vasilis dagres
on 07 de September de 2018
Iro Konstantopoulou born in Athens on 16 July 1927.
he was an excellent student and spoke four languages. Very quickly emerged as one of the best racing executives the EPON.
On 16 July 1944, the day of her birthday, a group of the Security Battalions broke into the home of her family in Veikou Street 57 Koukaki and arrested. They were brought to headquarters where he was tortured mercilessly by "Agenor" notorious collaborator of the Germans. Her parents used their acquaintances and managed to release her. Iro continued its action until July 31, when he was arrested again by men of Es- Es, after a sabotage a train carrying ammunition.
The Germans moved to the concentration camp of Haidari. On September 5, 1944, Iro was taken along with other 49 prisoners in the shooting of Kaisariani.
There the Hitlerites set up on the wall the teenager who had not even tried and "gazosan" 17 sfaires- what were the years-for "exemplification," they said. When asked a German general "why you kill her? He was just 17 years old ... ", he replied:" Why such people are dangerous for us. " Iro fell for the freedom of the homeland, 37 days before being released to Greece.
Política » Nacional Internacional Ejército & Seguridad Otros Políticos Democracia