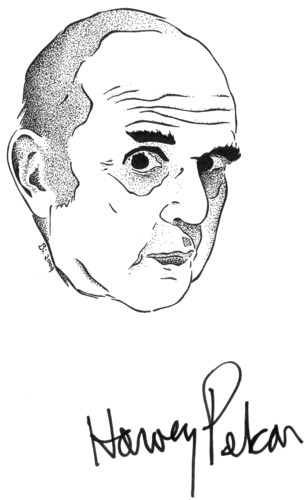 5259
Harvey Pekar R.I.P.

de
Penguin_guy
on 12 de July de 2010
Harvey died today.

He was a kind of everyman and everymans hero. At least in the community of all the cartoonists here in the US.

He left a huge amount of awesome work. He was portraited in the great movie American Splendor with Paul Giamatti as Harvey and Hope Davis as his wife Joyce. He was just Harvey Pekar.

I was asked to participate in a project for his 70th birthday last year. The idea was to get 70 artists to draw their version of Harvey as a surprise present. I did this portrait, which he later signed for me. Anyway, at the end they got far more than 70 Harvey-heads for him. You can see them all at http://www.smithmag.net/pekarproject/harveyheads/
harveypekarportraitamericansplendorthomasbaehrclevelandcomicsrobertcrumb

Beaker

Times Square_...

Ever...