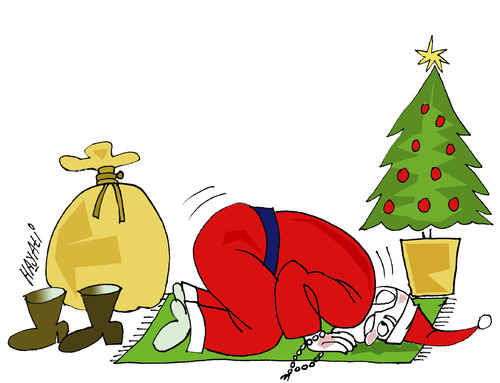 8231
Frohe Weihnachten

de
Hayati
on 12 de December de 2010
Myra - die Heimat des Nikolaus

Im Südwesten der Türkei liegt der Ursprung einer urchristlichen Legende: Der Heilige Nikolaus soll hier im vierten Jahrhundert als Bischof von Myra gewirkt haben.

English

Thousands of tourists from all over the world flock to Demre (formerly Myra) searching for the roots of Saint Nicholas. They come as pilgrims, especially from Russia—up to sixty bus loads a day during the peak season—where Saint Nicholas is revered as patron and a father of Orthodox faith. The beautiful beaches and warm weather along the Mediterranean coast also draw visitors from both Eastern and Western Europe. They may come to Demre as pilgrims, or, out of curiosity, wondering about the origin of Santa Claus, who is called Noel Baba or Father Christmas in Turkey.

Turkish
Bütün dünyada Noel Baba veya Santa Claus olarak tanınan Saint Nicholas, Türkiye'nin Akdeniz Antalya kıyılarında önemli bir Lykia kenti olan Patara'da M.S.245 (270) yılında doğmuştur.
Noel Baba (Saint Nicholas) bir müddet sonra Patara'nın komşu kenti Myra (Demre)'ya göç etmiştir.
Noel Baba (Saint Nicholas)'un 6 Aralık 343'te 65 yaşında iken öldüğü sanılmaktadır. Myralılar onun adına bir kilise yaparak içindeki lahitte koydular.
20 Nisan 1087'de İtalya'dan gelen tüccarlar lahitten kemiklerini çalıp Bari'ye götürmüş ve yaptıkları bazilikaya gömmüşlerdir. Geride kalmış bir kısım kemik ise bugün Antalya Müzesi'nde saklanmaktadır.
Gente Popular » Líderes Religiosos
boyaciogluhayati2011seneyeniweihnachtenmyrababanoelcommerzkonsumgeschenkistanbultürkiyedemrenikolaussevgihosgoeruetoleransyabancimigrationintegrationentegrasyonchristmasmaryhappyweihnachtenislamreligionenkultur