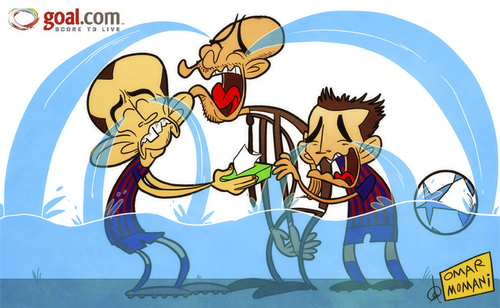 4075
Cry me a river!

3
Applause

de
omomani
on 29 de March de 2012
Barcelona's 0-0 draw with AC Milan in the first leg of their Champions League quarter-final on Wednesday was an entertaining spectacle, despite no goals being scored, but unsurprisingly the clash had more than a hint of controversy.

It centred around the state of the San Siro turf, which Barca coach Pep Guardiola and star duo Xavi and Javier Mascherano moaned was not suitably watered to allow them to utilise their tiki-taka passing style. The club have lodged a formal complaint to Uefa about the poor condition of the pitch, but the trio's tears would have been enough to moisten the surface ...
acmilanbarcelonachampionsleagueguardiolajaviermascheranolaligaspainxavi