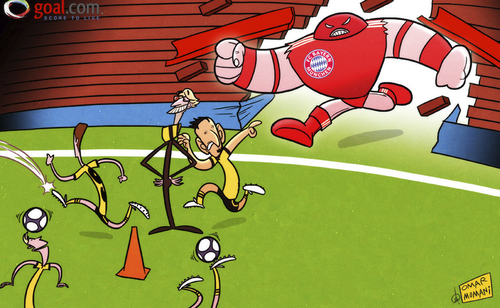 5328
Bayern Munich juggernaut

de
omomani
on 25 de May de 2013
The Champions League final at Wembley Stadium is just a day away, and the big question is: can Borussia Dortmund stop the Bayern Munich juggernaut?

Jupp Heynckes' side has been simply unstoppable this season, romping to the Bundesliga title with a record points tally, booking a place in the DFB Pokal final against Stuttgart and demolishing the mighty Barcelona over two legs on their way to the final.

Dortmund, meanwhile, surprised many by negotiating their way out of a group featuring Manchester City, Ajax and Real Madrid, before eliminating the Spanish giants in the knockout stages.

Jurgen Klopp's men finished a staggering 24 points behind Bayern in second place in the league, but both domestic meetings between the two have ended as 1-1 draws.

Can Klopp mastermind a victory over the German powerhouse, even without the injured Mario Gotze?
bvbfinaleendspielpokaldfbfcbmünchenguardiolapepdanteleaguechampionsmunichbayernborussiadortmundklopppokalfinalekloppojürgenkarikaturcartoonfundortmundilkaygundoganjuggernautjurgenmarcoreusrobertlewandowski