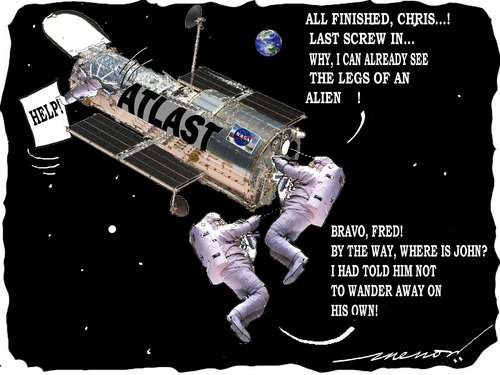 1625
ATLAST

1
Applause

de
kar2nist
on 24 de June de 2014
Report:
NASA to send astronauts a million miles into space to build massive telescope, four times bigger than the 44-feet Hubble Space Telescope, for alien hunt.
The ATLAST , or Advanced Technology Large-Aperture Space Telescope, will be the most powerful telescope in the world and will be able to analyse atmospheres of planets and solar systems up to 30 light years away.

Due to the size of the telescope, no rocket will be capable of transporting it up to space and instead, a team of astronaut construction workers will be ferried by Nasa's Orion rocket to assemble the telescope situated 1 million miles from the earth's surface!

The kar2nist's impression...
------------------------------

Raporu:
NASA yabancı avı için, 44-ayak Hubble Uzay Teleskobu daha dört kat daha büyük, büyük teleskop inşa etmek için bir milyon kilometre uzaya astronot göndermek için.
Atlast veya İleri Teknoloji Büyük Diyafram Uzay Teleskobu, dünyanın en güçlü teleskop olacak ve uzağa kadar 30 ışık yılı gezegenler ve güneş sistemleri atmosferler analiz edebilecektir.

Nedeniyle teleskop boyutuna, roket uzaya o kadar taşınması ve bunun yerine, astronot inşaat işçileri bir ekip, 1 milyon mil toprak yüzeyinden bulunan teleskop monte Nasa'nın Orion roket feribotlarla olacak yeteneğine sahip olacak!

Kar2nist izlenim ...
Educación & Técnica » Tráfico & Vuelo Espacial