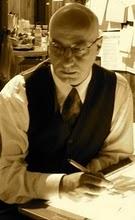 gulekk
New York, Estados Unidos de América
Miembro desde hace September 20, 2009
gulekk.blogspot.com
12 730
vistas
0
comentarios
0
favorecido(s)
Informaciones profesionales
Nombre
Gulek Kandirali
Cumpleaños
1957-12-22
Educación
international relations
Técnicas
digital
Instrumentos
adobe photoshop, illustrator,
Informaciones Personales
I was born in December 22, 1957 in Çanakkale/Turkey. After graduate from Economy Faculty of the University of Istanbul, I worked for media sector like publishers, magazines and Tv stations. since 1999 I've been living in Brooklyn, New York. I've a small graphic agency. I draw cartoons and illustrations, prepare ad graphics. I create them using Adobe Photoshop, illustrator and flash.