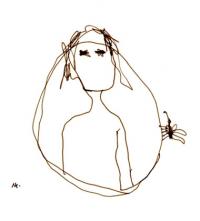 flyingfly
"Flying Fly - it lives in my heart and sometimes flies out due to the spaca shortage."
Berlin, Alemania
Miembro desde hace May 19, 2008
www.flyingfly.de
130 151
vistas
14
comentarios
13
favorecido(s)
Informaciones profesionales
Nombre
Lina Khesina
Cumpleaños
1983-03-16
Educación
University of Applied Sciences Potsdam, Germany. University of Applied Sciences Graz, Austria
Técnicas
Illustration, Drawing, Color, b/w
Informaciones Personales


Lina Khesina was born (1983) and grew up in Russia. Lives, studies an works in Germany since 1999.