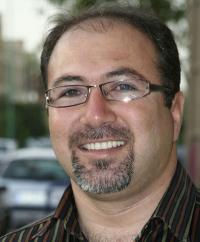 Saeedsadeghi
Jahrom, Irán
Miembro desde hace May 11, 2011
www.saeedartoon.blogfa.co...
17 578
vistas
42
comentarios
9
favorecido(s)
galería de Saeedsadeghi
(4)


Informaciones profesionales
Nombre
Saeed Sadeghi
Cumpleaños
1974-04-21
Informaciones Personales


Born in 1974 Jahrom, Iran .B.A in painting from Tehran Art University , Art teacher. Activity in painting ,Graphic design and Cartoon. Participation and prizes in international competitions. A cartoonist in national newspaper and magazines. The representative of FECO in Jahrom .