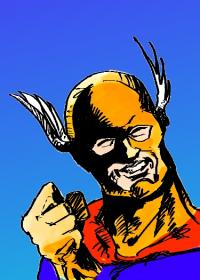 Jedpas
"Rock'n'roll!"
Sandy, Reino Unido
Miembro desde hace January 08, 2008
www.jedpas.co.uk
210 085
vistas
34
comentarios
6
favorecido(s)
Informaciones profesionales
Nombre
Jed Pascoe
Cumpleaños
1953-08-25
Educación
Dip Ad, MFA (Newport, London)
Técnicas
Anything that works!
Instrumentos
Wacom, Rotring artpen, ... you name it!
Influencias
Marvel & Morchoisne, Rembrandt, Renaissance, and abstract expressionism
Viñeta favorita
Any one of my own!
Informaciones Personales


I became a freelance cartoonist and illustrator in 1985. I trained at Newport Art College, then did post-grad at the Central School of Art in London. I work in media to suit the end product: Corel Painter IX, Flash, ink & watercolour or acrylic. I'm also widely acknowledged to be just about the fastest live caricaturist in the UK, if not Europe.