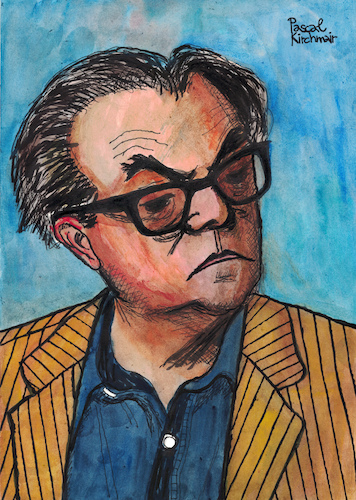 Format
Print
275 x 387 mm @ 300dpi
1147 x 1611 mm @ 72dpi
Digital
3252 x 4567 Pixel
Formato horizontal

Motivos parecidos
Desgraciadamente no está disponible.
»
«
Max Frisch
Archivo n° 306023

by
Pascal Kirchmair

Inicie sesión ahora o
regístrese gratis en Toon Agent »
Usuarios registrados tienen acceso a
la base de datos de cartoons internacionales
pueden descargar archivos imprimibles ahora mismo
tienen cómodas opciones de pago
tienen acceso a cartoons de actualidad diaria
guardar imágenes en la caja de luz
Limitaciones de uso
I was born in Valenciennes (Northern France) in 1974 from a French mother and an Austrian father. I live near Innsbruck (Austria) where I job as a freelance cartoonist and illustrator. Some of my works (caricatures, cartoons and illustrations) were published in books and printed on T-shirts. I am also participating in many international cartoon and caricature contests where I was published in catalogues and shown in some exhibitions.