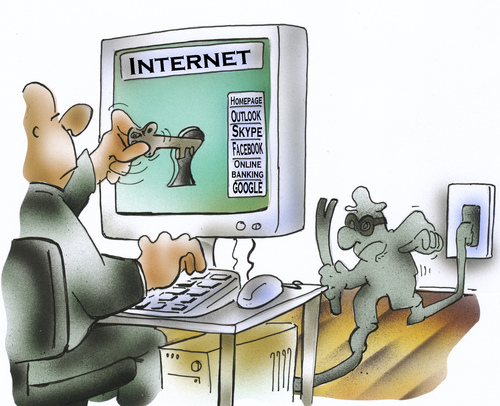 Format
Print
213 x 173 mm @ 300dpi
889 x 722 mm @ 72dpi
Digital
2520 x 2047 Pixel
Formato horizontal

Motivos parecidos
Desgraciadamente no está disponible.
»
«
Internetsicherheit
Archivo n° 270483

by
HSB-Cartoon

Inicie sesión ahora o
regístrese gratis en Toon Agent »
Usuarios registrados tienen acceso a
la base de datos de cartoons internacionales
pueden descargar archivos imprimibles ahora mismo
tienen cómodas opciones de pago
tienen acceso a cartoons de actualidad diaria
guardar imágenes en la caja de luz
Limitaciones de uso
closing time. Don't forget to safe your work after finnish. There are a lot of dubious people on the way in the net.
Nicht vergessen abzuschließen nach getaner Arbeit. Es sind einige dubiose Gestalten im Netz unterwegs.