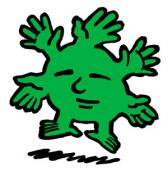 Best of No Text Cartoons
ToonPool has a lot of cartoons with text. Most of them are funny and nice. What cartoon is a long term discussion, but there are artists who make cartoons without text. Some of them are funny too, but being only funny is not the main aim on these cartoons. They can be defined as either ''graphically correct'' or ''story teller.'' I am sure that you use more time when you look these cartoons and can give you more than just ''smiling'', but still is humorous depending how you define ...
entradas más recientes:
25 de March de 2009
What is car-toon indeed?